---

---
The Plan
Marketing & Communication Plan
---
Our plan for the Region of South Aegean will leave a legacy of growth based on the following needs and priorities of our Region:
---
The South Aegean Region intends creating an environment where our quality local gastronomic values and the Aegean Diet establish a presence locally, regionally, nationally and internationally. Our main tool of success is the Aegean Cuisine. This will be the basis for our strategy, in combination with tourism and cultivation of the land. all stakeholders will work together so that the gastronomical result will travel across the world reaching international levels of good practice and recognition.
---
...Figures to remember…
---
50 Islands
Fifty islands who share some common products but, at the same time, every one of them have unique and rare products.
---
107 stakeholders
The first target audience for our strategy is the local stakeholders who have embraced Aegean Cuisine and are ready to take the next step.
---
30 centuries
of cultural legacy spread all over the Aegean archipelago.
---
900 days
(approximately) to 2019, the year that we want our Region to become the European Region of Gastronomy.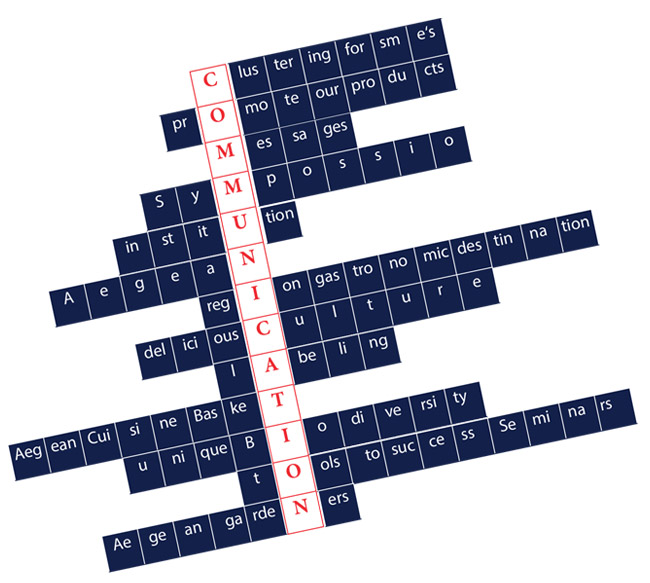 ...Steps to follow…
The development of our plan has 3 axes:
1. Produce the requested tools - products to be included in the marketing plan.
2. Adapt already known planned projects and activities to go a step further on. Communicate at every opportunity and by every means, gastronomic good practice.
3. Introduce new projects and ideas that will stimulate a change in mindset and focus on the areas where we face challenges.

For each of the above axes we will communicate and market our plans to:
3 Levels
1. Local
2. National
3. European
4. International
Target group
a. Islanders (Community and stakeholders)
b. Visitors/tourists
c. Gastronomic Opinion Leaders
d. Media
Communication Objectives
1. Create awareness at all levels respectively to all corresponding target group
2. Increase local interaction (community, stakeholders and volunteers)
3. Target audience call to action
Means to Meet the Communication Objectives
Our Communication material: audiovisual, web site, social media, below the line activities, thematic videos, educational material, opinion articles, media kit, press trips, advertising campaigns, volunteer engagement tools For a, b, c: We will organize gastronomic special events, conferences with key individuals and teams from the hospitality, food industry and tourism sectors. Food exhibitions will take place and an annual calendar for the Region of events of interest. Other initiatives include online broadcasting tools (food blogs); press initiatives (press trips and educational tours for journalists); tools for territorial communication (roll up and totems positioned in key places of arrival and passage for local events; windows transparencies for shops participating in the project; brochures, leaflets, postcards for tourists and visitors).
---
Budget
Our budget is estimated at 1.5m per year. This includes the implementation of our projects and our communication and marketing plan.
"Aegean Airlines, a member of Star Alliance, is Greece's largest airline providing ever since its inception in 1999 until today, full service, premium quality short and medium haul services.
---
In 2013 AEGEAN acquired Olympic Air; as a result passengers now have increased flight frequencies and connections as well as improved accessibility to Greece's islands, including some of the most remote ones. Total traffic of both companies reached 11.6 million passengers in 2015.
---
The 2016 network offers 145 destinations, 111 domestic and 34 international, to 45 countries. The flights are being performed with one of the youngest fleets in Europe, comprising of 61 aircraft, after AEGEAN´s recent investment in 7 new additional Airbus A320 ceos. AEGEAN has been honored with the Skytrax World Airline award, as the "Best European Regional Airline in Europe" for 2016. It is the sixth year in a row and the seventh time in the last 8 years that the company has received this distinction."
Founded in 1998, HELLENIC PETROLEUM is one of the leading energy groups in South East Europe, with activities spanning across the energy value chain and presence in 7 countries. Its shares are primarily listed on the Athens Exchange (ATHEX: ELPE) with secondary listing on the London Stock exchange (L.SE: HLPD/98LQ).
SYMPOSSIO GREEK GOURMET TOURING
A journey of Greek gastronomy is taking place in large cities throughout Europe. Greek cuisine and diet is exhibited through one of the most dynamic, promotional projects ever set in motion by Greek hoteliers, who are establishing Greece as a distinct culinary destination on the world map. (
www.sympossio.gr
)

HAROKOPIO UNIVERSITY OF ATHENS
Harokopio University of Athens is a public university, dedicated to promoting education and research since 1990 in a small, well focused set of intellectual areas and providing a high quality academic environment for its students. The university's excellent campus facilities houses four departments, i.e. the departments of Nutrition and Dietetics, Home Economics and Ecology, Geography, and Informatics and Telematics, all promoting education, research and interdisciplinary collaboration on cutting edge scientific fields. Specifically, the department of Nutrition and Dietetics consists of a solid educational undergraduate and postgraduate program based on research, teaching and leadership in human nutrition and dietetics (including basic nutritional sciences and clinical-, socio-cultural-, historical-, food-, sports-, and community-related aspects of nutrition), as well as on health promotion and lifestyle education. The department aims to highlight the role of nutrition in prevention and healthcare and its correlation with other sciences and academic fields, and to provide students with the ability to succeed in a wide variety of employment through a solid academic background in nutrition and dietetics including rigorous, science-based coursework.

RUTGERS, THE STATE UNIVERSITY OF NEW JERSEY
Rutgers, The State University of New Jersey, is a leading national research university and the state of New Jersey's preeminent, comprehensive public institution of higher education. Established in 1766, the university is the eighth oldest higher education institution in the United States, with more than 67,000 students and 22,000 faculty and staff learning, working, and serving the public at Rutgers locations around the world. At Rutgers, 31 schools and colleges, focusing on diverse fields of arts and sciences, serve students seeking an undergraduate education, professional studies, graduate degrees, and postdoctoral education. Within this excellent educational environment, Study Abroad Programs act toward developing a comprehensive, campus-wide set of international initiatives and services, initiating collaborative projects and strategic partnerships around the world, and expanding students' opportunities for international study and research. Among them, novel, well-designed interactive Study Abroad Programs of the department of Kinesiology and Health, in collaboration with other schools and departments, aim to familiarize students of diverse study fields with the complex concept of the Mediterranean lifestyle, and provide them with skills and competencies to adopt this health-promoting lifestyle in their everyday life.